Welcome to
Yoga Sampatti
'Sampatti' means wealth. Sujata is not talking about financial wealth, but she is talking about the real wealth 'Physical & Mental Health'. During her yoga journey, she has learnt varied methods to live good, healthy & happy life. With her rich experience in yoga, she would like to share a few techniques to improve the quality of life. She is hoping that everyone spends at least a few minutes from their busy schedule to gain physical, mental & spiritual strength by practicing yoga.
Activities
Yoga Classes & Personal Sessions
Computer Ergonomics & Chair Yoga
Therapeutic Yoga & Personal Consultation
Special seminars, lectures & demonstration as per requirements
Meditation & Relaxation for Stress Reduction
Yoga for Athletes, Students & Senior Citizens.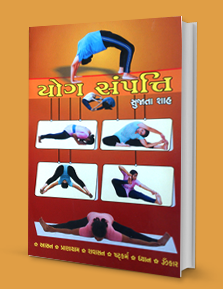 In March 2007,
Sujata published a book named
'Yoga Sampatti' in Gujarati language. In her book, she has explained Asanas, Pranayama, Savasana, Shatkarma and Meditation in lucid language.
For availability
Contact Us